Once you start to gain interest in jewelry and that you try to know more about it you quickly face specific terms. These terms don't always speak for themselves and to understand them you actually need to read their definition.
To help you learn faster, I've created the glossary of jewelry, ring and diamond terms that you should know. There are 396 terms in this jewelry glossary so don't hesitate to use CTRL + F to quickly jump to the definition you are looking for. Hope this glossary helps! You can also download the Glossary of jewelry, ring and diamond terms.
You already know many of these terms? Test your knowledge, take the quiz!
Jewelry, Ring & Diamond Quiz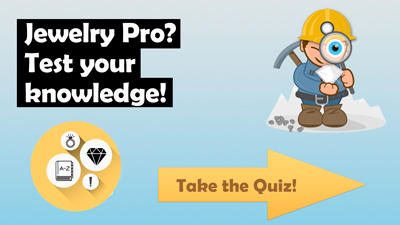 Section 1
Jewelry Definitions & Terms
AGS
The American Gem Society created by 1,000 jewelers of high recognition. The top gemstone grading organization.
AGSL
The American Gem Society Laboratories, one of the top gemstone grading organizations.
AGTA
American Gem Trading Association, another of the top gemstone grading organizations.
Aigrette
Ornament designed to be worn as a hat.
A'Jour
A setting that is open designed to leave facets open to light for reflect light better.
Allochromatic
The minor impurities that cause color in stones, a pure stone would be colorless.
Alloyed
Mixing of gold with different metals to increase hardness and color.
Anklet
A piece of jewelry designed to be worn on the ankle.
Anneal
A way to heat precious metals used with color gemstones.
Annealing
Heating and cooling metal to restore its less brittle state.
Appraisal
Evaluative process where a jeweler assesses how much a diamond is worth, considering characteristics and dimensions.
Assay
A way to test the purity of an alloy where a small metal piece is scraped from the piece.
Arabesque
Decoration characterized by weaving leaves and branches together.
Art Deco
Art and jewelry from 1920s and 1930s that are bold and vibrant.
Art Nouveau
Art and jewelry from 1890-1914 that features free flowing curves and natural forms.
Avoirdupois
A way to weighing things aside from precious metals and jewels, with units of 7000 Troy grains, consisting of 5760 grams.
Bail
Worn as pendants to accommodate a chain, cord or thong.
Bandeau
A narrow-banded head piece that is worn low on the forehead.
Bangle
A bracelet that slips over the wrist.
Bank Wire
Immediate initiated transfer of money from your account.
B & S Gauge
The standard way to measure thickness of sheet or wire; when the gauge is lower, the material is thicker.
Base Metal
Metals used to alloy gold jewelry.
Bar Closure
A clasp that has a bar shape found on the back of the jewelry.
Baroque
Pearls or stones that are shaped strangely.
Baroque pearls
Irregularly shaped pearls that are not symmetrical and are often uneven.
Barrel Catch
A clasp that connects two ends of a piece of jewelry.
Black Lipped Oyster
The famous oyster where the Tahitian Pearl was found near French Polynesia.
Black Pearls
A dark pearl that grows in the black lipped oyster.
Bib
A three-stranded (or more) necklace constructed from pearls.
Biwa Pearl
Pearls that are grown in Lake Biwa in Japan; cultured and freshwater.
Blister Pearls
A pearl occurring naturally that forms when a parasite breaks through the outside shell of a mollusk, secreting nacre and cementing itself to the shell.
Blue Gold
Alloy composed of iron and gold of light blue color, not often used in jewelry because of its brittle nature.
Blue Pearl
A pearl that has color from foreign contaminants, usually dark-colored.
Brazing Alloys
Metal alloys created to melt before the alloy that a jeweler will join together.
Briolette
A stone that is faceted to be shaped like a tear-drop.
Brooch
Clasped jewelry that uses a pin and can be worn on clothing.
Brushed Finish
An appearance where metal looks like it has a brushed texture.
Bubble
An obvious void where crystals and foreign substances are included, but so refractive they look like cavities.
Bullion
Distinguished from coin, 24k of fine gold or silver.
Burnout Furnace
Furnace used to eliminate wax from molds used to cast jewelry.
Buttercup Setting
A setting that looks like a buttercup flower with tall prongs that secure a stone in a scallop design.
Butterflies
The fitting that attaches the earring to an ear.
Button Style Earrings
Earrings that are styled with flat backs that lay against the ear.
Byzantine Chain
A chain that has a rope texture made of oval links.
Cameo
A carving that is styled where the design motif remains and the surface is cut away.
Carbochon
Cutting of stone where it appears to be rounded and cut for the best effect based on the stone.
Casting
A process used for making jewelry where you pour melted metal into a mold.
Cavity
Small hole in the diamond or gem stone, a tiny flaw.
Center Stone
Centrally located stone that is the largest in a jewelry setting with multiple stones, also called a solitaire.
Centrifugal Casting
Small metal casting making process that's used in jewelry shops.
Certificate
The blueprint of a diamond, also called the cert, grading report or what the dossier confirms the exact properties.
Certified Gemologist
Jeweler members who have completed several advanced courses granted title by American Gem Society.
Channel
A setting that holds a lot of gem stones in place, either parallel with gold or other metals where the stones touch and there's no metal between the stones; this setting is supposed to give the appearance that the gemstones are floating.
Channel Setting
Grooves that hold jewelry setting in place used for anniversary bands.
Chandelier Earrings
Called dusters, they're earrings that are shaped like chandeliers.
Charm
Decorative ornaments that hang from jewelry.
Chatoyancy
The optical effect where light reflects from the stone, looking like a cat's eye.
Chip
Gemstone flaw created by damage from another surface.
Clarity
The presence or absence of inclusion from minerals, birthmarks, fractures.
Clasp
The instrument on the end of necklaces and bracelets that you open and close to connect two ends.
Claw
A type of setting with metal prongs that hold the stones in place; typically used for transparent, faceted stones.
Clasp
A jewelry piece that connects ends together to hold a piece of jewelry in place.
Cluster Design
Small gemstones designed into jewelry that keep it clustered in a circular form.
Cobalt
Metal that is stronger than nickel, colored material for blue glasses which stimulate gems.
Collet
Jewelry pieces that are circular that are made of metal to secure a stone.
Collier
Necklace that surrounds the neck like a coller; French for coller.
Color
The more void of color, the more valuable the stone.
Comfort Fit
A rounded inside edge band that eliminates pinching.
Complexion
Either the lack or presence of flaws on a stone.
Concussion Mark
Small flaws, bruises, or chips outlined by cleavage; often found on diamonds after wear.
Copper
Soft medal used in jewelry; used to make bronze, gold alloys, and brass.
Coronet Setting
A type of setting where a gemstone is held by metal claws.
Critical Angle
Where light is reflected without escaping from the stone.
Cuff Link
A piece of jewelry that is designed to be worn through holes in the sleeves of shirts.
Curb Link Chain
Standard cable chains that are oval or flattened rounds.
Dangle Earrings
Though often called drop earrings, they are similar but longer.
De Beers Consolidated Mines Limited
The company that mines 45 percent of the world's gems and diamonds.
Decoration Etched
A carved surface decoration that is created by lasers or acids.
Demi Hoop Earrings
Half hoops earrings that form a semi-circle.
Demi Parure
Vintage jewelry in a matching set that consists of two pieces like an earring and a necklace.
Dog Collar
Multiple stranded gems or pearls that are choker length.
Door Knocker Earrings
Hinged-bottom earrings that hang below the earlobe.
Double Clip
Two halves of a piece of jewelry, typically a pin or a brooch, that can be worn apart or together.
Drop Earrings
Earrings that hang below the earlobe while being slightly shorter than dangle earrings.
DWT
Deadweight abbreviation that is described in pennyweight.
Earring Jacket
Pieces used to make earrings that surround a stud to hold it in place.
EGL
A gemological institution that is focused on certification and research, one of the oldest institutions in the US.
Electroplating
Bonding process that merges a thin layer of material to another material.
Embossing
A process for stamping in a pattern where you press on a plain piece of metal to leave the pattern in relief.
Emerald Cut
A type of cut where a gemstone is stepped, with cropped corners.
Enamel
A substance that is created by fusing colored powdered glass to metal that makes a decorative surface with a glass appearance.
Engine Turning
A procedure for engraving that is used on plain metal and used for cigarette lighters and powder compacts.
Engrave
A procedure for gouging out metal with tools into a design; typically using.
Enhancement
Treatments that increase the diamond's qualities, such as oiling and heating.
En Tremblant
Gemstones that are attached to tremblers to help create movement when the jewelry is being worn.
Etching
A process where the surface of the metal is removed for decorative purposes using acid.
Faceted Girdle
A girdle gut with facets.
Facet
Small, polished surfaces that give a diamond a finished diamond shape; helps change the sparkle.
Fastenings (Bracelets & Necklaces)
A mechanism that attaches jewelry, such as bolt ring, jump ring, padlock, pearl fastener, trigger and magnetic.
Fastenings (Earrings)
Fittings for earrings that attach jewelry together, such as andralok, andraslide, clip, continental, hook fitting, and lever back.
Filigree
Wire that is gold or silver that has been twisted into patterns and soldered into place.
Fineness
Pproportion of precious metals, like gold or silver, in a metal alloy; typically measured in thousandths.
Findings
Materials and parts that create jewelry like stems and bails.
Faux
Also known as fake or imitation; used to describe simulations.
Findings
Standard mechanisms in jewelry that are used for repair work; consider lobster claws, settings and shanks.
Fingerprints
An internal flaw found in corundum, like an inclusion.
Flux
A material used for soldering.
Foiling
A thin sheet of metal that is placed in a closed setting at the base of the gemstone to make the color of the stone look better.
Fold Over Clasp
Often seen in watch closures; a hinged and jointed clasp.
French Clip
Tension pieces that are used to hold earrings in place for people with non-pierced ears.
Freshwater Pearls
A type of pearl that is found in mussels in several countries in the world, like China, the US, and Japan.
GCAL
Authentic of a diamond's quality, issued by the Gem Certification and Appraisal Lab.
Gemologist
A professional that completes courses of gems and passes exams to become certified in gemology.
Gemstone
Natural minerals found in earth's rocks that's suitable for jewelry.
GIA
Gemological Institute of America, diamond grading industry leader.
Gilding
Covering one material with a thin layer of gold.
Gipsy
Also called a star setting; with a recessed stone.
Girdle Width
Proportion of girdle to the rest of the stone.
Gold
Precious metal that is yellow in color and very soft when found pure, also, one of the most malleable and ductile metals, often mixed with other metals to reduce the price.
Gold Filled
Unlike gold plated, it appears like karat gold, but contains about 100 times more than gold in gold fill; sometimes called rolled gold in the US.
Graduate Gemologist
A gemologist with professional credentials earned from GIA.
Grain
A unit used to measure pearls.
Gram
The weight in the metric system based on a cubic centimeter of water.
Graver Tool
A mechanism for engraving jewelry; appears like a chisel.
Green Gold
A gold alloy with a high percentage of silver alloy.
Guilloche Enamel
The product created when translucent enamel is applied to metal with engraving on it.
Hallmark
A mark that is applied to jewelry and silverware to guarantee authenticity.
Hammered
A detail for decorative purposes that looks as if indentations have been hammered into the metal.
Head
The main part of the setting, holding the diamond in place.
Head Shape
This is determined by shape of the stone, the top of the shape
Head Size Range
Range of sizes that can be mounted to a head that is determined by .carat weight.
Heart Shape
Diamond that is pear-shaped with a cleft.
Height
Mmeasuring from the top of the diamond, the estimated size.
Hook Clasp
Physical part that locks jewelry into place.
HPHT Treatment
Process that enhances or removes the color in a stone or diamond.
Hue
Diamond's color that helps determine if it's pure or has any other color.
IGI
A diamond report that describes a diamond's characteristics, which is analyzed by gemologists based on the 4 Cs.
IGL
Independent Gemological Laboratories that specializes in grading jewelry and large diamonds.
Inclusion
A foreign particle that obstructs the gemstone, such as an air bubble; often inclusions can make the value of the stone decrease.
Inlaid
A cavity that has been removed from a stone and replaced with a different material.
Intaglio
The Italian word for carving where a gem is engraved into an object so it sits below the material.
Invisible Setting
A type of setting that is channel-style to secure gemstones without showing metal when looking from an aerial view.
Iridescence
A viewing phenomenon where the hue of the stone's surface changes when you shift the angle of the stone.
Iridium
A metal that is related to platinum.
Joint
Soldered or screwed piece of jewelry that is pinned or fastened to another piece of jewelry.
Karat
Tells you the amount of pure gold that is present inside a metal; not to be confused with "carat".
Keshi Pearls
Round pearls that are formed in the soft cavities of pearl after it has been ejected by the mollusk.
Knotting
This is recommending for large pearl necklaces, a strategy where knots are tied between each pearl in a strange to keep them from rubbing against each other.
Lever-Back Earring
Hinged lever earrings that act as clasps.
Locket
A case on a necklace that holds a keepsake.
Loupe
A lens used by jewelers to study gemstones and hallmarks.
Mabe Pearls
A type of pearl that is formed when a half-bead is affixed to the inside of the mollusk; when the pearl is removed the hole is filled with paste, wax or another bead then covered.
Mallorca
An imitation pearl that popularly derives from the Spanish Island of Mallorca; very popular in the United States.
Maltese Cross
Four straight-lined arrow-headed that meet at center points that are used to design on jewelry.
Mantle
The soft tissue in the mollusk that secretes nacre and used for pearl formation.
Matte
A dull, non-reflective finish on polished metal.
Metal
Rare chemical element that is of high economic value in art and jewelry; less reactive than most metals.
Micrometer
Instrument used to measure an object that is to be gauged and brought up to the end of a screw.
Mikimoto Pearl
Pearl brand founded by Kokichi Mikimoto, the creator of cultured pearls.
Milanese Chain
Small, interwoven rows of links that form mesh.
Millimeter
One thousandth of a meter.
Millegrain
A type of setting where thousands of tiny beads support the stone.
Mixed Cut
The type of cut that has both brilliant cut facets and step cut facets.
Mohs Hardness Scale
A scale used to determine the hardness of a stone created by Friedrich Mohs.
Mold
Form that you can shape metal in while it's in a molten state.
Mother of Pearl
The lining on the inside of the mollusk shell or oyster that is famous for small objects and buttons.
Mountings
Settings, channels, etc.; holds a gemstone in place.
MSRP
Manufacturers' suggested retail price.
Nacre
The substance that leaks from the mantle of the mollusk.
National Stamping Act
A federal law that was enacted in 1906 that controls the quality on articles made of gold and silver.
Navette
A stone that is oval shaped and pointed at both ends.
Negligee
A long necklace that dangles with drops and tassels of uneven length.
Niello
An inlay technique for silver and gold that is turned black for contrast.
NGL
Industry leader in Diamond Grading; The Northwest Gemological Laboratories.
Nickel
A metal used to make jewelry that is white, ductile and malleable.
Niobium
Element used in steel alloys that is silver, soft and ductile.
Non-Nucleated Pearls
Freshwater pearls that come from another mollusk used to encourage pearl growth.
Off Center Culet
Affects the stone's symmetry that is a major gemstone cutting problem.
Off Color
Due to the color grading scale, it's a stone that shows more or less of a tint of undesirable color.
Oiling
A way to increase gemstone color, not permanent.
Opalescence
The phenomenon where a gem looks like it's yellow-red in some light, but blue in scattered light.
Opera Necklace
A necklace that lays on the breastbone, about 34 inches at most.
Orient
Mother of pearl shells that have the pearly luster.
Orient Pearls
Pearls found in the Persian Gulf that are almost non-existent because of pollution.
Osmium
Part of the platinum family, might be the heaviest element known.
Oxidation
An oxide formed from a base metal like copper in sterling silver, unlike discoloration.
Palladium
Pure white metal from platinum family, stronger than white gold.
Patina
The natural use and age on a surface formed by imperceptible scratches that can disrupt the surface.
Pearl
A calcium carbonate formed by sand, shells, or other substance that is smooth different colors, though commonly found in white.
Pearl Length Necklaces
Rope (45 inches); opera (28-34 inches); matinee (20-24 inches); princess (17-19 inches); choker (14-16 inches); collar (12-13 inches).
Pearlescent
Not necessarily a pearl, but a pearl-like appearance on a gemstone; also, a type of finish that is semi-transparent.
Per Carat Cost
The carat weigh multiplied by the carat cost is the total cost of a gemstone.
Pennyweight
Troy weight unit used for weighing metals, abbreviated "dwt".
Platinum
One of the hardest popular metals. Often used in engagement rings. A white metal.
Pleochroic
A type of visual effect where a stone is diffracted, causing it to appear to be a different color depending on how you look at it.
Plique a Jour
Colored enamel you can see through which lets light pass through; when translated, it is literally "glimpse of day".
Plum Gold
Gold alloy that is marked with small tolerance; nothing less than 14K gold.
Points
A system that jewelers use to determine carats out of 100 points.
Polariscope
A tool that jewelers use to study substances and their properties.
Refining
A way to extract metals from masses containing impurities.
Refraction
The effect you see when light enters a medium with a different optical density and it bends at a different angle.
Rhodium
White precious metal that is in the platinum family.
Rhodium Plated
Belonging to the platinum metal group, it is a transition element that is plated in either a silver or white color; it is used to brighten gold, polish gold, or make a surface harder.
Riviere
Single-stranded gemstone necklace all of the same size and cut.
Rolled Gold
Also called filled gold, a sheet of old that is laminated to something like brass, then heated with two layers of heated pressure to fuse together.
Rondelle
Bead that acts as a spacer between other types of beads with contrasting colors.
Rough Girdle
Grainy girdle circle with nicks.
Ruthenium
A metallic element that is part of the platinum group that melts about 24000 degrees C.
Satin Finish
A frosted finish.
Scintillation
The way light reflects of a stone or diamond.
Scrap
Jewelry shop waste.
Semi Mount
A center-stone setting that may be set with smaller side accent stones.
Semi-Precious
Of the three categories of gemstones, this is the second largest, such as topez, garnet, amethyst.
Side Stones
Stones that are set next to a center stone; not like accent stones.
Silver
Harder than gold, softer than copper, and the whitest of the jewelry metals. IT is malleable and ductile.
Slide
A fastener that is open-framed where a chain is passed.
Soldering
Joining metal together by melting one piece into another piece at the joints.
Solitaire
Jewelry with a single stone.
Specific Gravity
Weight of a substance in relation to an equal volume of distilled water at 4 degrees C; it helps determine gem identification.
Spectroscope
A tool that is used to identify gems.
Step Cut
A type of cut, like an emerald or baguette.
Symmetry
The arrangement of the angles and facets a jeweler creates.
Table Spread
The width of the table facet; called the face.
Tarnish
Exposure to air and moisture that causes metal to dull.
Tempering
Increasing the hardness of metal by heating gradually.
Tennis Bracelet
A thin bracelet that is flexible created with alternating, linking gemstones.
Tiara
A piece of jewelry designed to be work on your head like a crown.
Tie Bar
Also called a tie slide, a thin bar of metal that attaches a tie to a shirt.
Tie Clip
Also called a tie clasp, attaches a tie to a shirt.
Tie Tack
Accessory that secures a tie to a shirt or holds a necktie together.
Titanium
A light, strong metal element that combines rutile and ilmenite that is used in alloys.
Troy Ounce
Used for weighing precious metals containing 20 pennyweights each of 24 grains.
TruSilver
Sterling silver alloy that is more resistant to tarnish than sterling silver. It costs about the same as sterling silver.
Ultrasonic Cleaner
An agent dissolved in a solution that vibrates lower than humans can hear, dislodging dirt.
Vickers Hardness Test
A procedure for testing metals in a diamond pyramid by a load of 5-120 kg.
Wax Injector
Forcing molten wax into rubber to make a pattern.
Well Cut
A cut that has the proportions to maximize fire and brilliance.
White Gold
Nickel or palladium, alloy of gold.
Yellow Gold
Alloy of gold, silver, copper and sometimes zinc, the most popular gold alloy.

Section 2
Ring Definitions & Terms
Abrasions
Tiny nicks along the facets that have hazy lines instead of sharp facets.
Azured
In the setting of rings when each has a hollow spot for the gem that will be put into a square, enhancing its reflection.
Baguette
A way to cut a gemstone in a rectangular shape that is narrow.
Baguette Shape
Rectangle diamond with facets that look like steps with two long sides tapering inner.
Band
A thin strip of material that makes up a ring.
Basket Setting
A ring with prongs that support a stone in a lace arrangement.
Bevel Cut
Cut stone with edges beveled with one facet, the bottom is cut normal, and if it's the same on top, it's a double bevel cut.
Bezel Facet
Cut along the top of the diamonds, called kite facets.
Bezel Setting
Setting where a rim holds the stone, surrounding the gem.
Box Setting
A ring setting for a stone where the top edges are burnished over the edges of the stone.
Brilliant Cut
Cut with 58 facets that are found to reflect the lightest from a stone.
Bridal Set
An engagement ring and matching wedding band.
Bruted Girdle
Girdle that is cut with the intent to have a frostlike appearance.
Canary Diamond
A yellow-colored diamond.
Carat
One of the terms used to define the weight of the diamond; part of the 4 Cs.
Cathedral Setting
Ring setting where the sides are angled to draw attention to the stone.
Claddagh
Ring design that is traditional featuring hands that clasp at a heart on the top of a crown.
Cluster Setting
Large, center stone surrounded by a lot of smaller stones.
Cocktail Ring
Large, dramatic stone rings that were invented to be worn at fancy parties to be eye-catching.
Color
A way to grade diamonds on an established scaled by the Gemological Institute of America; hues like pink, blue, green, and red are called fancy colors.
Crown
Upper facets of the diamond leading to the top of the diamond.
Crown Angle
The degrees between the bezel facets and the plane of the table.
Culasse
The pavilion.
Culet
The tip of the gemstone that may be polished in some stones.
Cushion Cut
Diamond cut like a square or a pillow.
Cut
Part of the 4Cs; an angle or proportion a jeweler creates while transforming the rough diamond into the polished one.
Cutting Style
Different kinds of diamond shapes.
Dispersion
The way light enters a diamond and reflects.
Emerald Shape
Set of rectangular, square or triangle cut for a gemstone. A cut where the corners have been cut off for protection.
Eternity Ring
Also called an anniversary band of platinum or gold, given to mark an engagement, continued love, or to mark a child's birth.
Extra Facet
An addition facet that doesn't have regard to symmetry.
Fair Cut Diamond
Diamonds that will not reflect an acceptable amount of light because they're either too deep or shallow.
Fancy Color Diamond
Expensive diamond that is rare and could appear different colors, such as blue, green and yellow – often color makes it more valuable.
Fancy Shapes
Diamonds that aren't round.
Fancy Yellow
Diamonds that are so yellow they transcend color scales.
Fault
Damages to a diamond or other gemstone that reduces the value.
Feather
A diamond fracture that looks like a feather, separating caused by a fracture or cleavage.
Fede Ring
Popular European style ring that has two hands clasped together.
Fezels
White inclusions in a diamond that are wispy and irregular.
Flawless Diamonds
No internal inclusions on the diamond. Highly valued and rare, they are perfect stones.
Finish
A descriptive term for the outside of a diamond that describes if it's polished or has an acceptable finish.
Fire
Like dispersion; descriptive of the rainbow colors seen when diamond light reflects.
Fish Eye
A white circle in poorly cut diamonds that looks like a fish eye.
Fishtail
Some settings have a fishtail shape in the setting side.
Fissure
The point where a cleavage opening results in an elongated cavity.
Fit
The way a jewelry band surrounds a finger.
Flat Ends
Cleavages in a diamond that are thin.
Flat Top Setting
A broad setting at the top with a faceted stone that can be inserted into a ring.
Fluorescence
A property that some diamonds have when exposed to an ultraviolet light, typically gives off a blue-ish, yellow tint.
Four Cs
The four critical aspects to consider in a diamond, including Carat, Color, Clarity and Cut.
Fracture
Called a feather; crack on a diamond.
Fracture Filling
Molten glass filling that improves the diamond fracture and enhances the clarity.
Full Cut
58 facets on a gemstone.
Gimmel Ring
Two (or more) linked hoops that fit together to make them look like one hoop.
Girdle
The part of the diamond where the setting is affixed, the widest part of the diamond.
Growth Lines
Also called Grain lines that can be considered flaws on the inside of the diamond.
Guard Ring
A non-obvious ring that's thin, typically worn in front of a more expensive ring to protect it from slipping off.
Gypsy Setting
A male-oriented setting that becomes thicker at the top, like a dome.
Hair
A gem flaw & inclusion.
Halo Setting
A type of ring that is designed to make the center stone look enhanced by circling it with a bunch of smaller stones.
Hardness
The resistance a gem has to abrasion or scratching on a relative scale.
Illusion Setting
A setting that surrounds a stone to make it look larger than it is, usually polished to enhance the stone.
Integrated Head
A ring that has a head and a shank created with one piece of metal.
Marquise Shape
A boat-shaped and double pointed diamond shape that comes to curved sides at the end.
Mixed Cut
A brilliant cut and step cut faceted diamond.
Oval Shape
A symmetrical shape that is elliptical; resembles a round shape that is elongated.
Pave Setting
Tapered holes filled with small gemstones.
Pavilion Depth
The bottom of a stone beneath the girdle.
Peg Head
A head of a ring that's made of 4-6 prongs that are soldered separately.
Pendant
Ornamentally designed jewel that hangs from a necklace.
Pewter
Silver-colored metal that is malleable made from tin and copper.
Pinpoint
Specked crystals inside a diamond that could form a hazy cloud in the stone.
Prong Setting
Four to six prongs that nestle a stone in the center; a setting that allows a maximum amount of light to reflect through.
Promise Ring
A pre-engagement ring that signifies a commitment.
Ring Size
A way to determine the diameter of the wearer's fingers and the size of his knuckle ranging from 4-13.
Signet Ring
A type of ring that is used to imprint either a family crest or a family insignia into wax for letter sealing or document stamping.
Shank
The ring part that circles the finger.
Three Stone Ring
A ring that is designed with one center stone and two smaller side stones; this is often symbolic of past, present and future

Section 3
Diamond Definitions & Terms
Asscher
Square-shaped diamond with rectangular facets.
Bar Channel Setting
Circular band of diamonds holding each stone by a bar connected between stones.
Barion Cut
Cut diamond with a traditional, modified with brilliant pavilion cut.
Bead Setting
Setting where the stones are set on a strip of metal, held by beads, raised from the surrounding metal.
Bearding
Small cracks on the outermost part of the diamond, called the girdle.
Black Centered Stone
A misshapen diamond with a deep pavilion.
Black Diamond
Definition used for carbonado and black diamonds.
Blemish
A flaw on a diamond or other stone.
Bow Tie
An elongated fancy shape that has a dark area that runs right to left in the center of the diamond resembling a man's bowtie.
Bowtie Effect
Light leaking from the stone in an oval, marquise or pear-shaped diamond.
Branded Diamonds
Think Tiffany & Co; diamonds with trademarked cutting styles.
Brilliance
Light reflected through the diamond, depending on symmetry and polish.
Carat
The unit of measurement for a diamond's weight.
Clarity Enhanced
A diamond that has been enhanced by gemologists, not by nature.
Cleavage
A crack inside a diamond; small cleavage won't affect the stone's brilliance.
Cloud
A small group of crystals, pinpoints that are formed in diamonds; small ones are not visible to the naked eye.
Colored Diamonds
Yellow, pink, blue and other colors of diamonds that fall into the D-to-Z scale.
Conflict Diamonds
Diamonds that are from areas that are controlled by factions that are internationally recognized governments.
Cubic Zirconia
A diamond stimulant made by man.
Deep Cut
The way a craftsman cuts the rough diamond, referring to angles and proportions, into a finished diamond.
Depth
A diamond's height.
Depth Percentage
Derived by dividing a diamond's width by its depth, helps figure out the brilliance of the diamond.
Diameter
Calculation of the widest part of the diamond.
Diamond
The hardest known natural substance that is also a crystallized carbon.
Diamond Grading Reports
The appraising of diamonds, can be recognized by gemological labs.
Dimensions
Width and height of a diamond.
Dispersion
The way light reflects off the angles and facets of a diamond, displaying the spectral colors.
Flawless
A diamond without blemishes and inclusions.
Good Cut Diamond
The top 35 percent of diamonds that show a lack of brilliance.
Grading
The way an evaluator will appraise a diamond and its characteristics to determine value.
Graduated
A change in the size of gemstones within the same setting.
HPHT synthetic diamond
A fake diamond that is created in a lab with high pressure and high temperature.
Ideal Cut
A diamond that is cut with the best combination of angles that allows light to not only enter but reflect back to create brilliance and fire.
Internal Stress
Flaws inside a diamond usually from irregulates and inclusions, only visible through a polariscopic.
Irregulars
A classification or diamonds that are shaped in irregular ways.
Laser Drill Hole
Small hole in a diamond from drilling into it to get rid of a flaw.
Laser Drilling
Using a laser to improve the appearance of a diamond with dark inclusions.
Laser Inscription
A mark or number that is lasered into a girdle in a diamond; only visible under a microscope.
LAX Diamond
Fireless diamond.
Leaching
A way to make the flawed diamond better looking using hydroforic acid to radiate the surface.
Magic Sizes
Diamonds that weigh between .5 and .75 ct.
Melee Stone
Small diamonds that weigh under .2 carats that accent gemstones.
Mixed Cut
A type of diamond cut that resembles an emerald and a brilliant cut.
Moissanite
A diamond simulant that is man-made.
Natural
A rough diamond with a small edge that is left unpolished.
Needle
A long, thin crystal on the surface of the diamond, not usually visible with the naked eye.
Opaque
A diamond that has a lot of inclusions that won't let light through the diamond.
Pear Shape
A cut of diamond that is shaped where the girdle outlines a pear; it has 58 facets.
Polish
The measure of smoothness on a diamond's facets.
Poor Cut
How a jeweler transforms a rough diamond into a finished diamond.
Princess Cut
A cut of diamond that is square or rectangular that has some of the sparkle and brilliance of a round cut.
Proportion
The relationship among the facets of the crown and the pavilion; this is directly related to the amount of light that is reflected by the stone.
Quadrillion
A diamond that hosts a square cut with 96 facets; 21 crown facets, 24 pavilion facets, and 49 brilliant facets.
Radiant Cut
Square cut diamond with both scissor and step cuts on the crown containing 70 facets.
Refraction
The way light rays bend and pass through a diamond.
Rough
An uncut diamond.
Round Shape
Diamonds that are cut with 57 facets.
SI 1/ SI2
Grades that include diamonds with inclusions that can be seen under 10x magnification.
Saturation
A diamond's purity of color indicating the absence of brown or green hues.
Semi mount
Diamond ring that is decorated with space for featured diamonds – no center diamond is included.
Setting
A ring part where the diamond sits and is held in place.
Shallow Cut
A less brilliant, vibrant diamond that is cut too shallow.
Shape
The appearance and form of a diamond; round, triangular, square, marquise, pear, oval and heart shaped.
Single Cut
Small diamonds with 17-18 facets.
Sparkle
Light entering a diamond and reflecting through the same stone.
Table
The cut diamond's top surface.
Table Facet
The largest facet on a diamond, called the face.
Tension Setting
Pressure setting that holds diamonds in place by squeezing.
Tone
A way to measure color intensity ranging from dark to light.
Total Weight
The total weight of all the stones in the piece.
Trillion Shape
A diamond that is triangular in shape with 50 facets.
Twinning Wisps
Diamond crystal structures that are irregular as a line inside the stone, typically not visible without tools.
V End
Setting designed to protect the fragile diamond points.
Very Good Cut
A cut that is designed to let light enter the stone.
Vs 1/ Vs 2
Two grades of diamond have tiny inclusions you cannot see without magnification.
VVs 1 / VVs 2
Two grades of VVS Diamonds that you cannot detect even with 10x magnification.
White Diamond: a color grade that is equivalent to GIA grades like F, G, H and AGS grades 1 & 2